This system is ideal for applications where a fixed install with intercom flush panel mounted like car stereo, powered off of boat, no exposed wires (all behind dash) and connections to music, cell/satellite phone, marine 2-way VHF radio, and any other thing you can think of for your communication needs.
To assemble an intercom system, the following components are necessary; intercom module (2, 4, 6, etc. persons), wiring harness, headsets or helmets, optional two-way radio, and an optional antenna.
There are many options available to suit your individual needs and all systems are custom. Please contact us for pricing and system descriptions.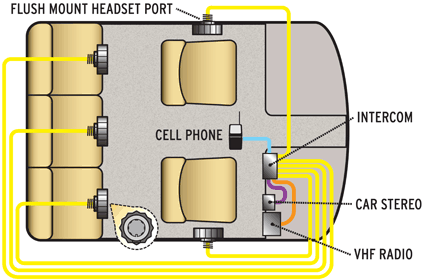 OUR MOST POPULAR BOAT SYSTEMS
I2D Intercom
Module
For 2 people.

I4D Intercom
Module
For up to 4 people.

I6D Intercom
Module
For up to 6 people.
Custom Intercom Module
Boat Communications can design and build an intercom system
to accomodate as many people as required.
OTHER SYSTEMS AVAILABLE
PM1000II Module: Designed for 4 people, but expandable to 8.
PM3000 Module: For up to 6 people.